The Great Brook Sugar House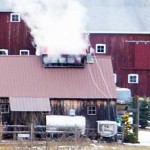 ---
Twenty-five years ago the New Milford Youth Agency tapped ten trees on the front lawn of the East Street School. That first year the mammoth amount of sap that was collected was boiled on a Coleman stove. Today the Agency taps 1,600 trees on property donated by residents of Kent. This tremendous growth is due to the interest, imagination and work ethic exhibited by the youth that have participated in the program over the past three decades.
Today our maple sugaring operation is one of the largest in Connecticut. We still use the old fashion method of making maple syrup with a wood fired evaporator. Each year dozens of high school and college students assist in the collection, processing, packaging and sales of some of New England's best maple products.
If you get a chance, drop by and see us in February or March. We would love to show you our operation. Just look for the steam floating up from the sugar house. If you are a student who would like to become involved, call the Agency at (860) 210-2030.
The Great Brook Sugar House is located at:
The Sullivan Farm
140 Park Lane
New Milford, CT. 06776
(860) 210-2030
Our 2013 season syrup and maple products are now for sale!
Contact us at the Youth Agency (860-354-0047) to buy these
delightful handcrafted items.
Please support our wholesale buyers: Salsa on Bank St. and Theo's on Railroad St.
---